Pentair Whole House Carbon Filter & Softening Combo System PAC4 | PAC7
Regular price

Price:

$3,499.00 USD

Regular price

List Price:

Sale price

Price:

$3,499.00 USD

Unit price

per
Availability: Only 3 in stock
Most orders ship within 2-3 business days
Get Healthier Water, Softer Skin and Hair, Lower Water and Energy Bills, and Stay Safe in Natural Disasters.
With the Pelican PAC4 | PAC7 Whole House Carbon Filter & Salt Softener Combo, you no longer need to live with hard water that creates puffy shirts and dulls your hair. People who live in homes without a filtration system can be at higher risk for health problems such as asthma and skin irritation. But you don't have to worry any longer since the PAC4 | PAC7 System filters the minerals from water before it enters your home, removes chlorine for a fresher-tasting glass of water, and softens the water for silkier hair, smoother skin, and a spot-free shine cleaning dishes.
☑️ SMOOTHER SKIN, SILKIER HAIR: The only 
water softener certified at 99.6% to prevent scale buildup. Preserves beneficial minerals and prevents hard water scale build-up for greater-tasting beverages, softer hair, skin, and an overall impact on your lifestyle like never before.
☑️ HANDLES THE ENTIRE HOUSEHOLD: Options for either 1-3 bathroom or 4-6 bathroom homes. Sediment filter should be replaced every 6-9 months. Softener unit lasts a lifetime and does not ever need to be replaced.
☑️ EASY DIY INSTALLATION: Use the provided instructions for a simple install, indoor or outdoor. Installation kit recommended to make the install go smoothly.
☑️ EXCELLENT FOR BOTH CITY AND WELL WATER: Filters out sediment, particulates and softens all water before it routes into the house. 
☑️ SET IT AND FORGET IT: Install this system with the DIY instructions, whether inside or outside without any drainage systems required.
☑️ STOP WORRYING ABOUT MAINTENANCE: The system is fiercely independent. Replace sediment filter every 6-9 months. Main filter tank lasts at least 5 years, softener tank lasts a lifetime and never needs to be replaced. Replace salt as needed. 
How it Works
1: Pentair Carbon Filtration System
The Carbon Filtration is designed to reduce chlorine in your home's water, improving both taste and removing odors and impurities. Designed to be simple from the ground up, this system efficiently filters water which keeps maintenance low and the service life long at 5 years or more.



2: Pentair Water Softening System
The Softening System reduces the calcium, magnesium and other dissolved minerals that cause hard water before they enter your home - so your clothes and dishes come out cleaner, your appliances run smoother, and scale is reduced on your water appliances. This system automatically regenerates only when necessary, so it uses less salt which saves you time and money. It features a simple and efficient design for low maintenance and a longer service life.
3: Pentair Sediment Filter
The included 5-micron pre-filter helps protect your filtration system and home's appliances from the damaging effects of sediment (dirt & debris) build up. The sediment that can be found in city or well water can clog faucets, damage appliances and even change the taste of your drinking water. The pre-filter traps particles down to 20 times smaller than the diameter of a human hair or 5 microns in size.
Benefits of the Carbon Filter:
Softer skin and hair
Shower and bathe in spring-like water
Great tasting coffee and tea
Better than bottled water from every tap
90-day satisfaction guarantee
Benefits of the Salt Softening System:
Large tank size
High capacity resin
Easy-to-program metered electronic head
Standard bypass included
PAC4 = 1-3 Bathrooms
PAC7 = 4-6 Bathrooms
System includes:
Pentair Whole House Water Softening System
Brine tank with float and drain line
Sediment pre-filter system with mounting hardware
Pentair Whole House Carbon Water Filter
Installation guide
Installation Recommendation: Professional Installation

Location: Indoor/Outdoor. If installing outdoors, this system should not be installed in direct sunlight without the presence of a weather cover accessory (sold separately). System should not be installed in an area that is exposed to freezing temperatures. See Owner's Manual for details.

Additional Needs: Block Salt or Solar Salt
Technical Specifications
35921 (Included in PAC4)
Tank Height:
54"
Tank Width:
10"
Flow Rate:
11.8 GPM
Connection Size:
3/4"
Operating Pressure:
20 - 120 psi
Operating Temperature:
40-100 F°
Grain Capacity:
46,000
18" x 33" Round Brine Tank
35924 (Included in PAC4)
System Height:
61.25"
Tank Width:
10"
Flow Rate:
11.9 GPM
Connection Size:
3/4"
Operating Pressure:
20 - 120 psi
Operating Temperature:
40-100 F°
35922 (included in PAC7)
Tank Height:
48"
Tank Width:
12"
Flow Rate:
14.5 GPM
Connection Size:
3/4"
Operating Pressure:
20 - 120 psi
Operating Temperature:
40-100 F°
Grain Capacity:
61,000
18" x 33" Round Brine Tank
35925 (Included in PAC7)
System Height:
55.25"
Tank Width:
12"
Flow Rate:
13.2 GPM
Connection Size:
3/4"
Operating Pressure:
20 - 120 psi
Operating Temperature:
40-100 F°
Limited Lifetime Warranty
Pelicans Limited Lifetime Warranty:
Pelican Water ("Pelican") warrants to the end user ("customer") that its tanks (13" and smaller), valves, in/out non-electric heads, bypass's, fittings and housings for POE systems ("Covered Items") will be free from defects in material and workmanship under normal use and service for a limited lifetime of twelve (12) years from the date of original purchase**.


Limitations and Responsibilities:
Pelican's obligation to the customer under these warranties shall be limited, at Pelican's option, to replacement or repair of Covered Items by these warranties, labor is not covered. These warranties do not cover replacement filter cartridges, elements or lamps. Prior to return or repair of Covered Items, the customer must obtain a return goods authorization number from Pelican by/at and at Pelicans option, return the Covered Items freight prepaid. Any Covered Item repaired or replaced under these warranties will be returned prepaid standard freight to the original point of shipment. Expedited freight options are available at customer expense.

No warranty is made, and is explicitly excluded, with respect to defects or damages due to neglect, misuse, alterations, accident, misapplication, physical damage, or damaged caused by fire, acts of God, or freezing. These warranties apply only to the original registered owner so long as the owner owns/lives in the home in which the unit was originally installed. Customer must register their system with Pelican within 90 days of purchase* in order to obtain a warranty. Warranty will discontinue after the unit is removed from the location where it was originally installed. Warranty begins on the date of delivery of product to the customer. Improper maintenance of system (ie not replacing filters or media, for example) on time will be considered "neglect" and explicitly excluded from the warranty. Installation of any system on water conditions outside of or beyond the recommended specs of any system voids any warranty.

Pelican gives this warranty to the original owner/customer in lieu of all other warranties, express or implied, including without limitation any implied warranties of merchantability or fitness for a particular purpose or treatment of certain water and hereby expressly disclaims all other such warranties. THE WARRANTIES PELICAN GIVES IN THE ABOVE PARAGRAPHS ARE EXCLUSIVE, PELICAN DISCLAIMS ALL OTHER WARRANTIES, EXPRESS, IMPLIED OR STATUTORY AND SPECIFICALLY DISCLAIMS ANY IMPLIED WARRANTIES OF MERCHANTABILITY, FITNESS FOR A PARTICULAR PURPOSE OR IMPLIED WARRANTY OF WORKMANLIKE PERFORMANCE. Pelican's liability hereunder shall not exceed the cost of the product. Under no circumstances will Pelican be liable for any incidental or consequential damages or for any other loss, damage or expense of any kind, including loss of use, arising in connection with the installation or use or inability to use the Covered Items or any water treatment system the Covered Items are incorporated into. These warranties are governed by the laws of the state of Florida and may change at any time without notice.
*Failure by California and Quebec residents to complete the product registration form does not diminish their warranty rights. **For all orders placed on or after June 3rd, 2011.
FAQ
Q: Can I install the PAC Series outside?
A: We recommend this system not be exposed to outdoor elements like direct sunlight or atmospheric precipitation. But if you do install outdoors, we offer an outdoor weather cover accessory that will help protect the valve head from elements. This system can also be installed in a covered, open-air structure like a carport or basement.
Q: Which model is right for me?
A: The PAC4 is ideal for homes that have 1 to 3 bathrooms and standard daily water usage. The PAC7 is the right choice for homes with 4 to 6 bathrooms and standard daily water usage.
Q: How much maintenance is required?
A: Little maintenance is needed to keep your water softeners functioning smoothly. Salt does need to be refilled as it is depleted and filters and media should be replaced as indicated in your owner's manual.
Q: Does this system reduce microorganisms?
A: No. If you are concerned about microbial contaminants like viruses and bacteria, we recommend installing a Pentair UV Disinfection System.
Q: What type of salt should I use in Pentair Water Softening Systems?
A: It is recommended that block or solar salt be used in this system.
Shipping & Returns
As soon as you place your order, you will receive an order confirmation e-mail. This means that we have received your order in our system and pre-authorized your credit card for the purchase.  As soon as we receive your order, we automatically reach out to our suppliers to confirm that it is in stock and available for immediate shipment.  If your item is on backorder or unavailable, we will void the pre-authorization and reach out to you via e-mail.  If your item(s) are available for immediate shipment (within 3-5 business days), we will process the charges and submit the order for shipment.
---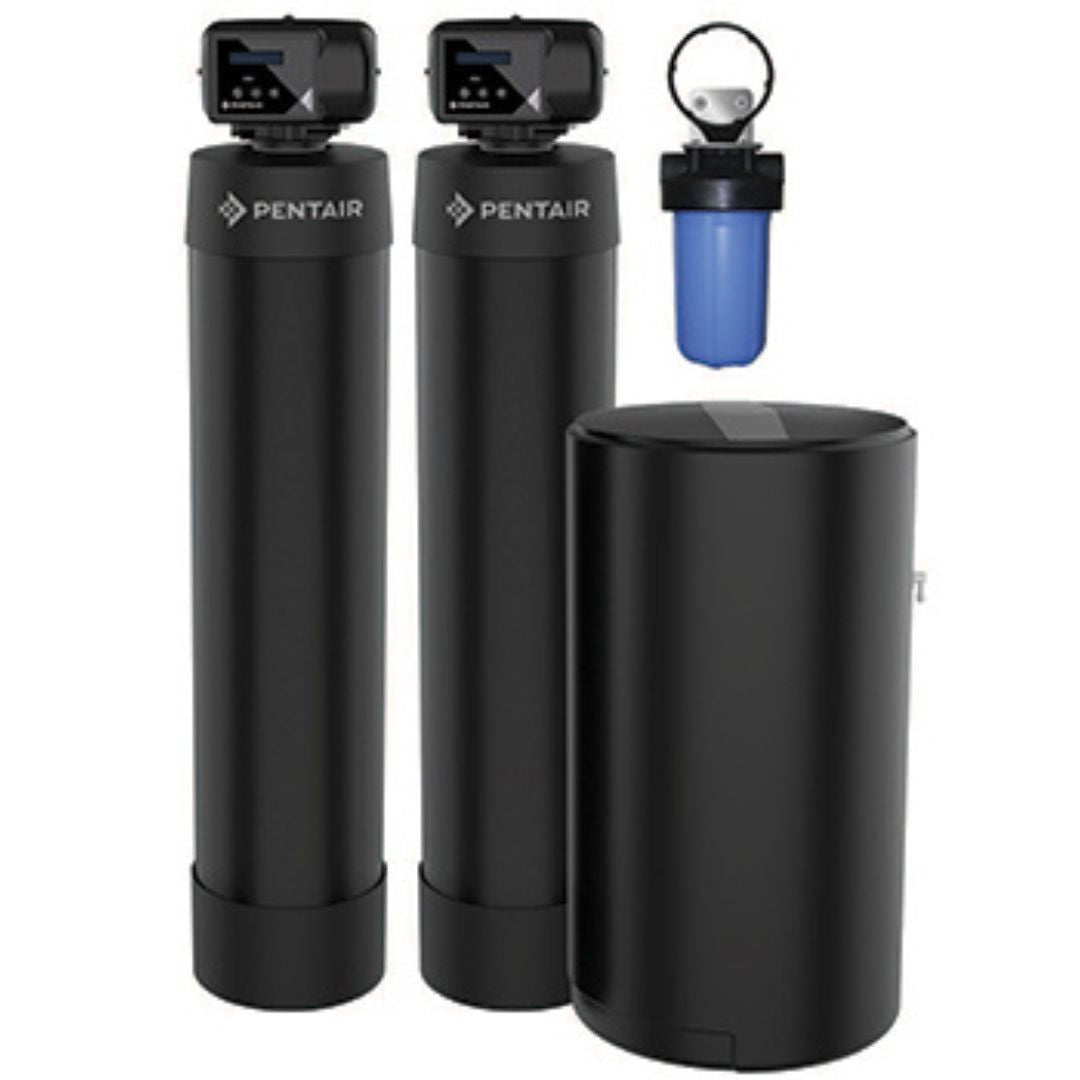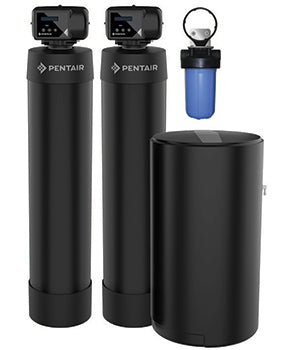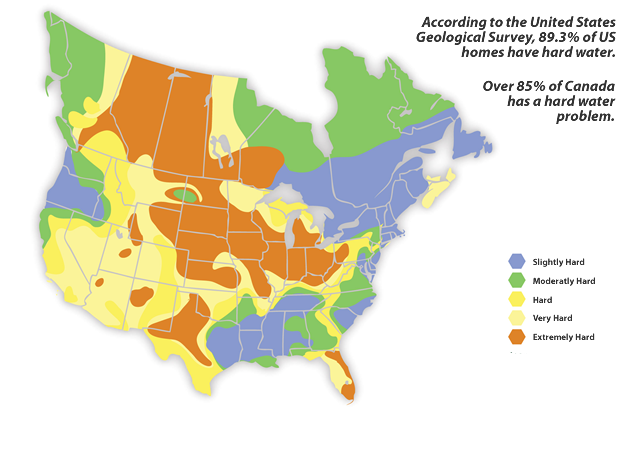 Great service!
These guys helped me choose the best equipment for my situation and were great at staying on top of getting it to me, even through manufacturer delays beyond their control. Highly recommended!
Very pleased
The system is beefier than others and really heavy, but it's been working really well for our house. Lots of kids and pets to look after and we're all feeling the benefits of nice soft water now. Very pleased.
Good salt system
We like a good salt-based softening system and don't really need the alternative solutions. We paid a plumber to install it which only took the better part of a morning. After flushing the system we can already notice that our water is so much softer! This system is a beast but we're happy with the results already.
Nice soft water
The instructions for installation would be so much nicer with pictures! But I was able to get the job done with what they provided. Now that it's in, we can already tell our water is softer. The dishes are cleaner and our skin and hair feel noticably smoother.
Installation is better with a friend
This system is great and works really well. It's built like a tank and weights a ton but that's to be expected. The instructions were a little tricky as I'm not a plumbing professional, more like a DIY hobbyist, so I had to get some help from a friend. After a couple hours, we were done and the system is working perfectly.