Pelican Premium Whole House Water Filter System PC600 | PC1000
Regular price

Price:

$999.00 USD

Regular price

List Price:

Sale price

Price:

$999.00 USD

Unit price

per
Availability: Only 2 in stock
Most orders ship within 2-3 business days
Pelican Carbon Series Whole House Water Filter System is a low-maintenance, easy to install system. It is the ultimate whole house water filtration system - no other system with a limited lifetime warranty addresses as many chemicals as this Pelican Water product! Highlights of using this product include:
Certified Performance - Removes 97% Chlorine up to 1.301mil Gallons
Softer skin and hair
Great tasting coffee and tea
Better than bottled water from EVERY tap in your home
Does NOT waste water
Requires NO electricity
Easy installation (inside or outside)
No drain required
90-day satisfaction guarantee
5 year performance guarantee
Limited lifetime warranty on tank and parts
Water is not always as pure as it appears. Multiple contaminants can travel into your home and your body in a glass of supposedly clean tap water. Chlorine, chloramine, and other water purification byproducts are common contaminants.

Pelican Water's Premium Whole House Water Filter helps remove such threats. Our deluxe, high-capacity filtration system is virtually maintenance-free, and easily installed in any home. With the ability to filter 600,000 to 1,000,000 gallons over water over five years, the Premium water filtration system offers a great value for a whole house water filtering system.

Pelican Waters Premium Whole House Water Filter is a deluxe, high-capacity, virtually maintenance-free system that is easily installed in any home. It has a 600,000-1,000,000-gallon, 5-year capacity, which offers a great value for a whole house water filtering system.


Reasons to Choose Pelican Water:

Why choose the Premium Whole House Water Filter over other home water filtration systems? Quality, convenience, and cost. The system's large diameter tank holds a high level of carbon media, increasing the filter's performance and lifespan, while the replacement cost is a fraction of the cost of our competitors.

Ease of maintenance is built right into this home water filtration system. While water filtration systems require the replacement of the entire tank when the time comes to replace the system's filter, all you need to do with a Pelican Water filtration system is replace the media, with no need to call (and pay for) a plumber.
How it works:

Stage 1
5-Micron Pre-filter System - The sediment pre-filter system reduces sand, silt, sediment and debris in the supplied water down to 5 micron (20 times smaller than a human hair) in size. Routine replacement of this 5-micron sediment filter will increase the effectiveness and protect plumbing and appliances from excess sediment. With average use, each filter is effective for approximately 6-9 months.

Stages 2 & 3
Catalytic Granular Activated Carbon Media (GAC) - Pelican utilizes a high-grade mesh blend of catalytic coconut shell based activated carbon in the Pelican Carbon Series Premium Whole House Water Filters. 

These media are designed to filter chlorine, chloramines, pesticides, herbicides, pharmaceuticals, industrial solvents and hundreds of other contaminants that may be present in your water.

Stage 4
Pelican Media Guard - Copper and Zinc Oxidation Media (KDF-55) - We also include a patented copper-zinc reduction oxidation media for the purpose of chlorine.


As a market leader, Pelican Water uses only the top-rated valves and tanks in the manufacturing of each Pelican system, all of which are backed by an industry leading limited lifetime parts warranty.
PC600: 1-3 Bathrooms (Capacity 600,000 Gallons throughput)
PC1000 4-6 Bathrooms (Capacity 1,000,000 Gallons throughput)
Technical Specifications
Tank Width:

9"

Flow Rate:

8 GPM Service / 12 GPM Peak

Connection Size:

1"

Operating Pressure:

25-80 PSI

Operating Temperatures:

36-120 F

Filter/Media Change:

Sediment Prefilter:

Every 6-9 Months

Tank 1 Media (PC600):

Every 5 years or 650,885 Gal
Tank Width:

11"

Flow Rate:

12 GPM Service / 16 Peak

Connection Size:

1"

Operating Pressure:

25-80 PSI

Operating Temperatures:

36-120 F

Filter/Media Change:

Sediment Prefilter:

Every 6-9 Months

Tank 1 Media (PC1000):

Every 5 years or 1,301,770 Gal

System Includes:
Sediment pre-filter system with mounting hardware
Pelican Carbon Series filter preloaded ready to install
Installation guide
Limited Lifetime Warranty
Pelicans Limited Lifetime Warranty:
Pelican Water ("Pelican") warrants to the end user ("customer") that its tanks (13" and smaller), valves, in/out non-electric heads, bypass's, fittings and housings for POE systems ("Covered Items") will be free from defects in material and workmanship under normal use and service for a limited lifetime of twelve (12) years from the date of original purchase**.


Limitations and Responsibilities:
Pelican's obligation to the customer under these warranties shall be limited, at Pelican's option, to replacement or repair of Covered Items by these warranties, labor is not covered. These warranties do not cover replacement filter cartridges, elements or lamps. Prior to return or repair of Covered Items, the customer must obtain a return goods authorization number from Pelican by/at and at Pelicans option, return the Covered Items freight prepaid. Any Covered Item repaired or replaced under these warranties will be returned prepaid standard freight to the original point of shipment. Expedited freight options are available at customer expense.

No warranty is made, and is explicitly excluded, with respect to defects or damages due to neglect, misuse, alterations, accident, misapplication, physical damage, or damaged caused by fire, acts of God, or freezing. These warranties apply only to the original registered owner so long as the owner owns/lives in the home in which the unit was originally installed. Customer must register their system with Pelican within 90 days of purchase* in order to obtain a warranty. Warranty will discontinue after the unit is removed from the location where it was originally installed. Warranty begins on the date of delivery of product to the customer. Improper maintenance of system (ie not replacing filters or media, for example) on time will be considered "neglect" and explicitly excluded from the warranty. Installation of any system on water conditions outside of or beyond the recommended specs of any system voids any warranty.

Pelican gives this warranty to the original owner/customer in lieu of all other warranties, express or implied, including without limitation any implied warranties of merchantability or fitness for a particular purpose or treatment of certain water and hereby expressly disclaims all other such warranties. THE WARRANTIES PELICAN GIVES IN THE ABOVE PARAGRAPHS ARE EXCLUSIVE, PELICAN DISCLAIMS ALL OTHER WARRANTIES, EXPRESS, IMPLIED OR STATUTORY AND SPECIFICALLY DISCLAIMS ANY IMPLIED WARRANTIES OF MERCHANTABILITY, FITNESS FOR A PARTICULAR PURPOSE OR IMPLIED WARRANTY OF WORKMANLIKE PERFORMANCE. Pelican's liability hereunder shall not exceed the cost of the product. Under no circumstances will Pelican be liable for any incidental or consequential damages or for any other loss, damage or expense of any kind, including loss of use, arising in connection with the installation or use or inability to use the Covered Items or any water treatment system the Covered Items are incorporated into. These warranties are governed by the laws of the state of Florida and may change at any time without notice.

*Failure by California and Quebec residents to complete the product registration form does not diminish their warranty rights. **For all orders placed on or after June 3rd, 2011.
FAQ
Q. Does the Pelican Carbon Series PC600 Premium Whole House Water Filters pre-filter system remove COPEPODS from the water?
Yes. Copepods are tiny crustaceans commonly found in reservoirs and public water sources. The little creatures range in size from 30 to 50 microns, meaning the largest are visible with the naked eye but small enough to move through many water filtration systems. This poses a difficulty if you eat a kosher diet (or if you just find the idea of tiny crustaceans in you water icky). The 5-micron prefilter provided with the Pelican Carbon Series PC600 Premium home water filtration system will remove Copepods. This type of water filtration system is approved for removing copepods by

 

OU Kosher, the world's leading kosher certification program.
Q. How easy is it to install the Pelican Carbon Series PC600 Premium Whole House Water Filter?
The Pelican Carbon Series PC600 Premium Whole House Water Filter will be shipped pre-assembled (the tank comes pre-loaded) and Ready-To-Install which greatly simplifies the installation process and also reduces installation cost and time. Detailed installation instructions and supplied fittings make it easy to understand and install the filter system. Also, you or your plumber may contact our knowledgeable Customer Service Technicians for further assistance during the installation if necessary.

 

1-877-207-7380


Q. Where should the Pelican Carbon Series PC600 Premium Whole House Water Filter be installed?
The Pelican Carbon Series PC600 Filtration System is a Point-of-Entry (POE) system, or whole-house/whole home system, and is usually installed in your garage, basement, or water heater closet. The system can also be installed outside or buried in the ground in climates where the temperatures do note reach below freezing.


Q. What is the cost to replace the carbon media inside the Pelican Carbon Series PC600 after 5 years of 600,000 gallons?
The cost to replace the media for the Pelican Carbon Series PC600 is currently only $205.00 including free shipping. Replacing the carbon media instead of the tank makes the replacement process simple and very cost effective.


Q. How often should I change the 5-micron sediment pre-filter?
Approximately every 6 to 9 months, depending upon the actual amount of sediment or particulate matter present in your water supply. The pre-filter starts off white in color so it is easy to see when the pre-filter is dirty by looking at the color of it.
Q. How will the Pelican Carbon Series PC600 Premium Whole House Water Filter be shipped to my home?
The filter system will be shipped via Free UPS Ground in the highest quality doubled walled box with side cushions and a custom top piece to protect the top of the filter system. No expense has been spared to ensure your filter arrives in factory fresh condition. These filter systems travel long distances, so we feel it is vital that the packaging be of the utmost quality. All orders will receive tracking numbers so you can track your filter system right to your door.
Shipping & Returns
As soon as you place your order, you will receive an order confirmation e-mail. This means that we have received your order in our system and pre-authorized your credit card for the purchase.  As soon as we receive your order, we automatically reach out to our suppliers to confirm that it is in stock and available for immediate shipment.  If your item is on backorder or unavailable, we will void the pre-authorization and reach out to you via e-mail.  If your item(s) are available for immediate shipment (within 3-5 business days), we will process the charges and submit the order for shipment.
Click here for detailed shipping and returns policy
---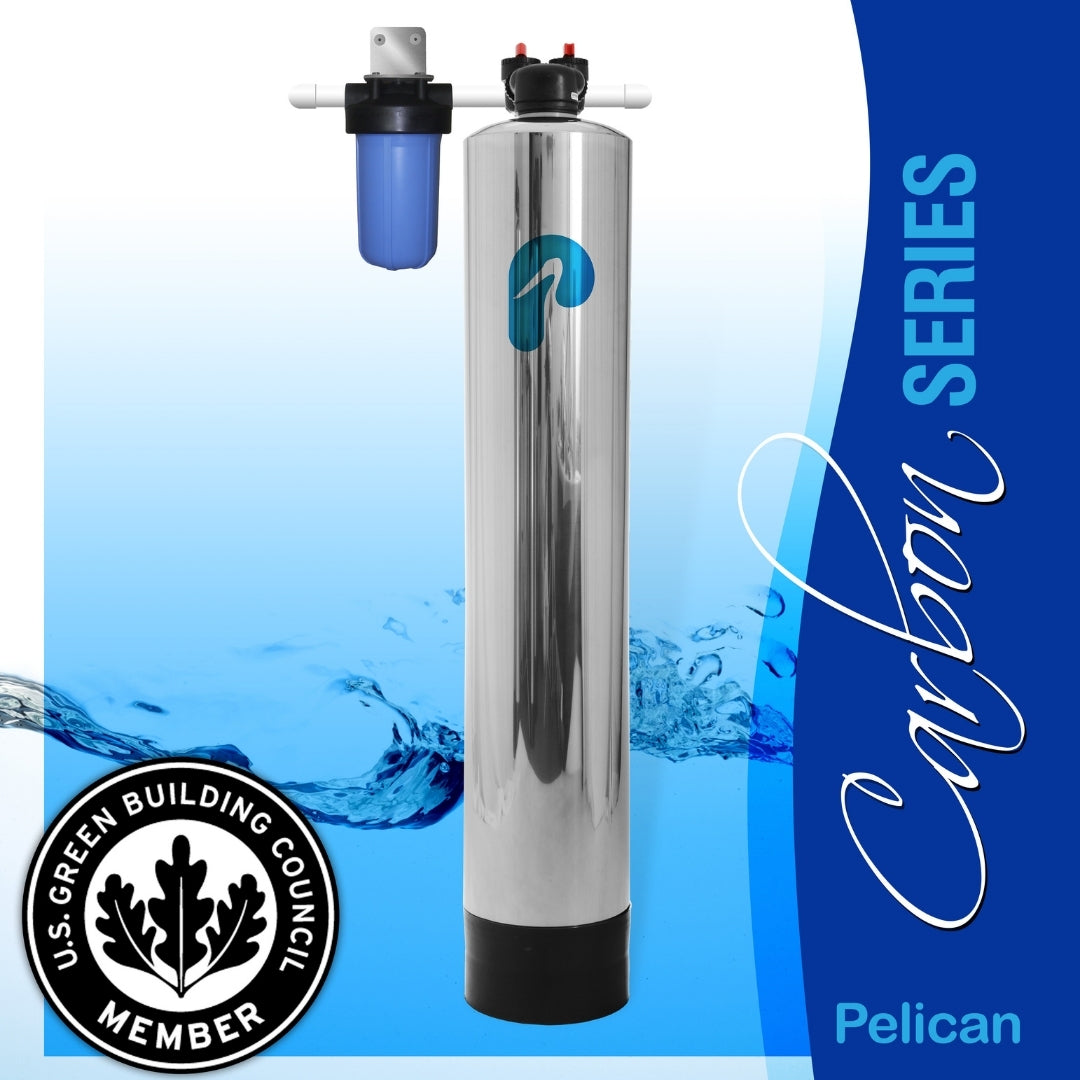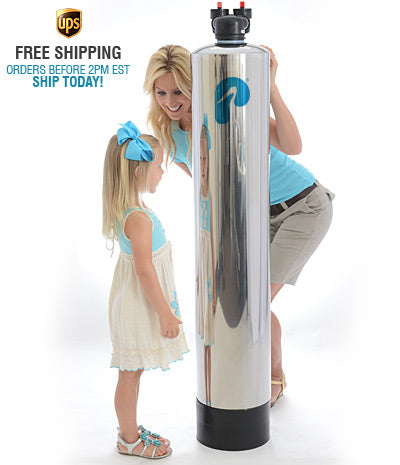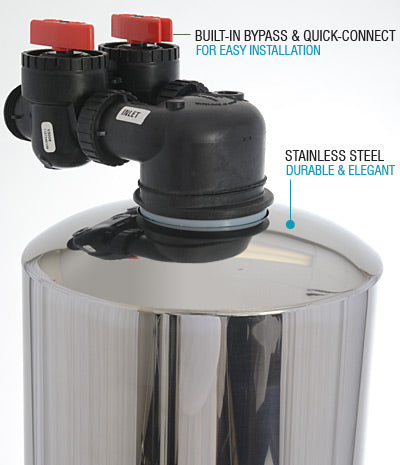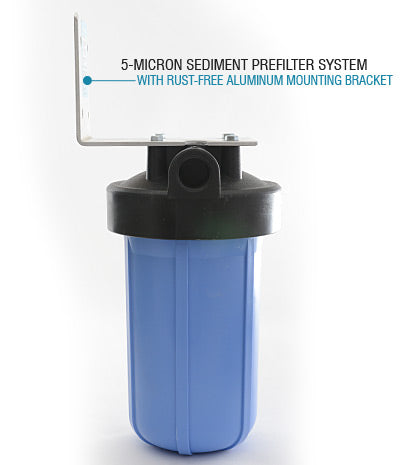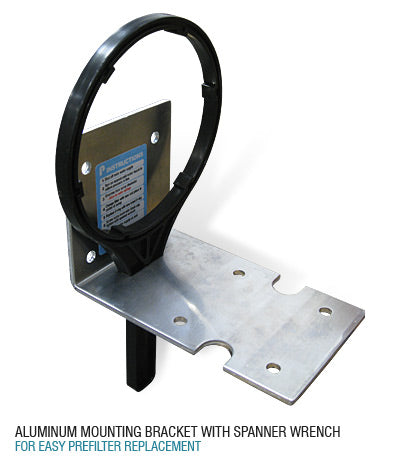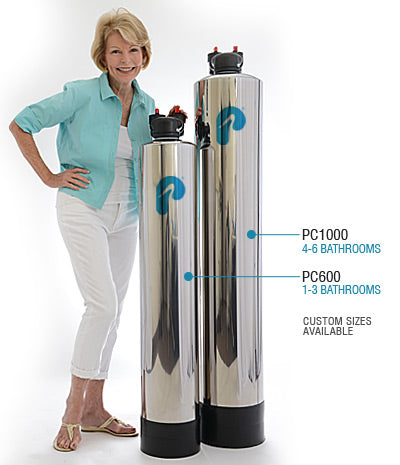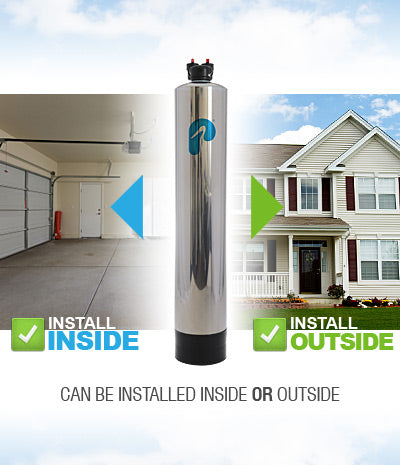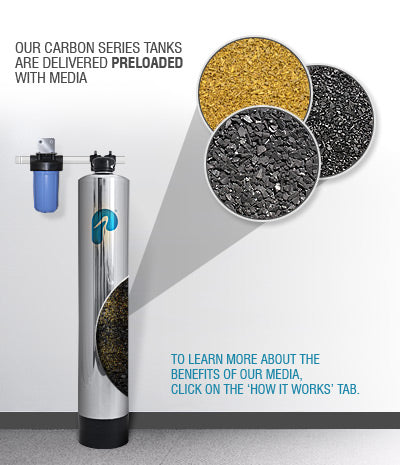 Whole House Filter
This was an easy DIY install. I like the system because the filter lasts so long and only require an inner swap of the media after 5 years. That's fantastic.
Better tasting water
After installing this unit ourselves (tricky but we figured it out), we've noticed our water tastes and smells so much better than before. My skin feels better after showering and the dishes get a lot cleaner too. We love this product.
Easy install
I had no problem installing this system myself, just needed a little know how and some youtube videos. At first I caused a few leaks but that was my fault for not putting the primer on right. Quick redo and all is well. Water tastes great and doesn't smell funny anymore, thank god!
Great product
Purchased this setup and have been very happy with it ever since! Water tastes great now.
No more bad smelling water
Since our city water switched to chlorine, we immediately noticed the difference in bad smelling and tasting water. We selected this system because of the good reviews. After installing ALL of the bad smells are gone and the water tastes great again. This is definitely the right product for improving the water quality in your house. We'll be buying another one for our parents soon.