Pelican Whole House Water Filter with UV PC600-PUV-7 | PC1000-PUV-14
Regular price

Price:

$1,569.04 USD

Regular price

List Price:

Sale price

Price:

$1,569.04 USD

Unit price

per
Availability: 96 in stock
Most orders ship within 2-3 business days
DRINK CLEANER WATER FOR A BETTER QUALITY OF LIFE.
Make that lifestyle change: It starts with water.
☑️HEALTHIER WATER LIKE NO OTHER: Filters out chlorine, chloramines, pesticides, herbicides, pharmaceuticals, industrial solvents and hundreds of other contaminants that may be present in your water for greater-tasting beverages, softer hair, skin, and an overall impact on your lifestyle like never before.
☑️ HANDLES THE ENTIRE HOUSEHOLD: Options for either 1-3 bathroom or 4-6 bathroom homes. Main filter tank guaranteed to last 5-years before requiring a media replacement.
☑️ EASY DIY INSTALLATION: Use the provided instructions for a simple install, indoor or outdoor. Installation kit recommended to make the install go smoothly.
☑️ KILLS 99.9% OF BACTERIA AND VIRUSES: Never suffer another boil-water alert. Drink, bathe, shower, and enjoy clean and healthy spring-like water through every faucet of your home. 
☑️ ELIMINATES ODORS: Removes contaminants that create odors. Turns brown and discolored water into crystal clear water that's safe to drink and use for all activities.
☑️ EXCELLENT FOR BOTH CITY AND WELL WATER: Filters out sediment, particulates, softens and completely disinfects all water before it routes into the house. Brown smelly water in comes out crystal clear and odorless.
☑️ SET IT AND FORGET IT: Install this system with the DIY instructions, whether inside or outside without any drainage systems required.
☑️ STOP WORRYING ABOUT MAINTENANCE: The system is fiercely independent. Replace sediment filters every 6-9 months. After the 5-year mark, no need to replace the entire tank, just simply swap the internal water media filter without breaking the bank. It's as easy as that.
What is the quality of your water? 
Water Quality Lookup Tool by Zip Code. Enter your Zip, click your utility, then scroll down to see the contaminants. 
You deserve to experience what clean and soft water really feels like. If you want to enjoy the benefits of soft water, then look no further than the Pelican Whole House Filter & Water Softener Alternative with UV PC600-PUV-7 | PC1000-PUV-14. This model sets the bar in home water filtration and softener, giving you premium quality water for drinking, cleaning, and bathing, from every tap and nozzle in the household.
Tap phone, get info. The Pelican Whole House Filter & Water Softener Alternative with UV PC600-PUV-7 | PC1000-PUV-14 lets you access guides, FAQs, and maintenance information with your phone. Simply place your smartphone near the system and you will have total control over the system. How cool is that?
PC600-PUV-7: 1-3 Bathrooms
PC1000-PUV-14: 4-6 Bathrooms
Product Guarantee
The Pelican Combo Series is guaranteed to reduce chlorine, and chloramine below minimum detection levels (MDL) for 5 years or 650,885 (PC600)/ 1,301,770 (PC1000) gallons.
Technical Specifications
System Includes:
Sediment pre-filter system with mounting hardware
Pelican Carbon Series filter preloaded ready to install
UV Disinfection System ready to install
Installation guide
PC600-PUV-7
(UV lamp not shown in diagram but is included)
PC 600

System Height:

49½"

Tank Width:

9"

Max Flow Rate:

10 GPM

Connection Size:

1"

Operating Pressure:

25-80 PSI

Operating Temperatures:

36-120 F

Min. Floor Space:

8 ¾" x 17 ½"
Pelican UV Max PUV-7

16 GPM

Control Module (black) with Audible/Visual Lamp Failure Alarm

Safety Cap

304 Stainless Steel Water Chamber

Inlet / Outlet:

1"

UV Lamp Power:

40 Watts

Max Power Consumption:

50 Watts

Warranty on Chamber:

10 Years

Warranty on Power Supply:

3 Years

Warranty on Lamp and Sensors:
1 Year
Chamber Dimensions:
10½" x 4"
Lamp Sleeve Dimensions:
16"
Power Supply Dimensions:
8½" x 6"
PC1000-PUV-14
(UV lamp not shown in diagram but is included)
PC 1000

System Height:

59½"

Tank Width:

11"

Max Flow Rate:

15 GPM

Connection Size:

1"

Operating Pressure:

25-80 PSI

Operating Temperatures:

36-120 F

Min. Floor Space:

10 ½" x 21"
Pelican UV Max PUV-14

34 GPM

Control Module (black) with Audible/Visual Lamp Failure Alarm

Safety Cap

304 Stainless Steel Water Chamber

Inlet / Outlet:

1"

UV Lamp Power:

70 Watts

Max Power Consumption:

83 Watts

Warranty on Chamber:

10 Years

Warranty on Power Supply:

3 Years

Warranty on Lamp and Sensors:
1 Year
Chamber Dimensions:
30" x 4"
Lamp Sleeve Dimensions:
25½"
Power Supply Dimensions:
8½" x 6"
Standard 110 Electrical Outlet
Limited Lifetime Warranty
Pelicans Limited Lifetime Warranty:
Pelican Water ("Pelican") warrants to the end user ("customer") that its tanks (13" and smaller), valves, in/out non-electric heads, bypass's, fittings and housings for POE systems ("Covered Items") will be free from defects in material and workmanship under normal use and service for a limited lifetime of twelve (12) years from the date of original purchase**.


Limitations and Responsibilities:
Pelican's obligation to the customer under these warranties shall be limited, at Pelican's option, to replacement or repair of Covered Items by these warranties, labor is not covered. These warranties do not cover replacement filter cartridges, elements or lamps. Prior to return or repair of Covered Items, the customer must obtain a return goods authorization number from Pelican by/at and at Pelicans option, return the Covered Items freight prepaid. Any Covered Item repaired or replaced under these warranties will be returned prepaid standard freight to the original point of shipment. Expedited freight options are available at customer expense.

No warranty is made, and is explicitly excluded, with respect to defects or damages due to neglect, misuse, alterations, accident, misapplication, physical damage, or damaged caused by fire, acts of God, or freezing. These warranties apply only to the original registered owner so long as the owner owns/lives in the home in which the unit was originally installed. Customer must register their system with Pelican within 90 days of purchase* in order to obtain a warranty. Warranty will discontinue after the unit is removed from the location where it was originally installed. Warranty begins on the date of delivery of product to the customer. Improper maintenance of system (ie not replacing filters or media, for example) on time will be considered "neglect" and explicitly excluded from the warranty. Installation of any system on water conditions outside of or beyond the recommended specs of any system voids any warranty.

Pelican gives this warranty to the original owner/customer in lieu of all other warranties, express or implied, including without limitation any implied warranties of merchantability or fitness for a particular purpose or treatment of certain water and hereby expressly disclaims all other such warranties. THE WARRANTIES PELICAN GIVES IN THE ABOVE PARAGRAPHS ARE EXCLUSIVE, PELICAN DISCLAIMS ALL OTHER WARRANTIES, EXPRESS, IMPLIED OR STATUTORY AND SPECIFICALLY DISCLAIMS ANY IMPLIED WARRANTIES OF MERCHANTABILITY, FITNESS FOR A PARTICULAR PURPOSE OR IMPLIED WARRANTY OF WORKMANLIKE PERFORMANCE. Pelican's liability hereunder shall not exceed the cost of the product. Under no circumstances will Pelican be liable for any incidental or consequential damages or for any other loss, damage or expense of any kind, including loss of use, arising in connection with the installation or use or inability to use the Covered Items or any water treatment system the Covered Items are incorporated into. These warranties are governed by the laws of the state of Florida and may change at any time without notice.

*Failure by California and Quebec residents to complete the product registration form does not diminish their warranty rights. **For all orders placed on or after June 3rd, 2011.
FAQ
Q. What is the difference between water spots (evaporative deposits) and hard water scale?
Hard Water Scale
Hard water scale buildup is mineral deposits that form inside your water heater, pipes, shower heads and icemakers. This scale occurs because the water is over-saturated with hardness minerals causing those minerals to come out of solution and form scale on pipes and heating elements. This scale can reduce water pressure and damage appliances.

Evaporative Mineral Deposits
Any time water is allowed to evaporate on the outside of faucets, shower doors and counter tops, dissolved solids and minerals are left behind. When these solids are left un-cleaned for a length of time they mix with soap and dirt around them to create a hard to remove water spotting deposit. Since the water has already evaporated, the scale formed is no longer related to the water, and adding a salt water softener will not prevent this, because salt softeners leave sodium in the water, which will also leave water spots.

The NaturSoft® Solution
A water softener will not stop water spotting. The Pelican NaturSoft® Water Softener Alternative will help reduce the amount of heavy cleaning you need to do to remove those spots and will

 

eliminate

 

hard water scale in your pipes and appliances. When treated with NaturSoft®, minerals that are left behind on surfaces when the water evaporates do not bond or stick to the surface around them, making cleaning easier. With Hard water scale prevented, the water softener alternative has protected your appliances from damaging hard water.
Q. Does the Pelican Combo Series pre-filter system remove COPEPODS from the water?
Yes.

 

Since COPEPODES range from 30 microns to 50 microns in size, the supplied 5-micron pre-filter will remove the COPEPODS. This method of COPEPODS filtration is approved based on the article found at https:/www.oukosher.org.


Q. How easy is it to install the Pelican Combo Series Premium Whole House Water System?
The Pelican combo will be shipped pre-assembled (the tank comes pre-loaded) and Ready-To-Install which greatly simplifies the installation process and also reduces installation cost and time. Detailed installation instructions and supplied fittings make it easy to understand and install the filter system. Also, you or your plumber may contact our knowledgeable Customer Service Technicians for further assistance during the installation if necessary.

 

1-877-207-7380


Q. What is the blue housing installed before the system for?
Every system Pelican offers comes with a 10" 5 micron sediment filter system. This sediment filter is used to keep sand and sediment away from your system and your home. You will change the filter every 6-9 months, depending on sediment levels. The pre-filter will let you know its time to change it when you notice a slight drop in water pressure meaning the filter is full.


Q. Is the Pelican NaturSoft® a water softener?
Yes, the Pelican NaturSoft® is a water softener alternative. Pelican worked closely with the Water Quality Association (WQA) Gold Seal Certification Body and a team of authorities on water treatment certification to define what a water softener was and help expand education to consumers about the differences between an ion exchange (salt) water softener and T.I.C. (Salt Free) water softener alternative. Education has always been an important step in Pelican's mission statement.

With all the new technologies being developed for water treatment, its important that your water treatment company help educate the consumer on new technologies and how they benefit you. The

 

Gold Seal Body of the WQA

 

agrees that Pelican's NaturSoft® system is a water softener and with third party testing showing 99.6% hard water scale prevention, Pelican is the only water softener alternative with a proven track record on the market.
Q. What makes NaturSoft® different from similar technologies?
Unlike other systems on the market, the NaturSoft® systems requires only 3 seconds of contact with the water, while the others require 9 seconds or more. The Pelican NaturSoft® is unlike any other system on the market. The NaturSoft® is made in the USA and is sold only by Pelican Water Technologies.
Another benefit of going with Pelican is the lifespan of the NaturSoft® catalytic granules. NaturSoft® catalytic granules have been rigorously tested in the real world, used in the commercial industry, and made to be non-sacrificial, therefore it requires no "rest time", and requires no replacement. Other similar technologies require replacement every 3-5 years at costs of $600-$1,000 and require you not use their systems for 8 hours a day for proper rest!
Q. Why does the NaturSoft® handle 75 grains while others only handle 25 grains of hardness?
The NaturSoft's® catalytic granular surface is 100% active and grows seed crystals on the entire surface. Other similar technologies only have "growth sites" that are active, leaving more than 70% of the surface inactive.


Q. If the water hardness is tested after the system is installed will the hardness level be different?
If the water is tested after the NaturSoft® System is installed the hardness level will remain the same or even test slightly harder due to the existing hard water scale being removed from the plumbing.


Q. Do the NaturSoft® Systems have any negative effects on the human body?
No, if your water supply is safe before it enters the NaturSoft® System it will be safe after the system. NaturSoft® Systems do not add any chemicals to the water therefore there is no harmful effect. NaturSoft® Systems leave in the beneficial minerals that are healthy for the human body.


Q. How will the Combo System be shipped?
The NaturSoft® Systems are shipped via UPS Ground in the highest quality doubled walled box with side cushions and a custom top piece. No expense has been spared to ensure your system arrives in factory fresh condition.
Shipping & Returns
As soon as you place your order, you will receive an order confirmation e-mail. This means that we have received your order in our system and pre-authorized your credit card for the purchase.  As soon as we receive your order, we automatically reach out to our suppliers to confirm that it is in stock and available for immediate shipment.  If your item is on backorder or unavailable, we will void the pre-authorization and reach out to you via e-mail.  If your item(s) are available for immediate shipment (within 3-5 business days), we will process the charges and submit the order for shipment.
Click here for detailed shipping and returns policy
---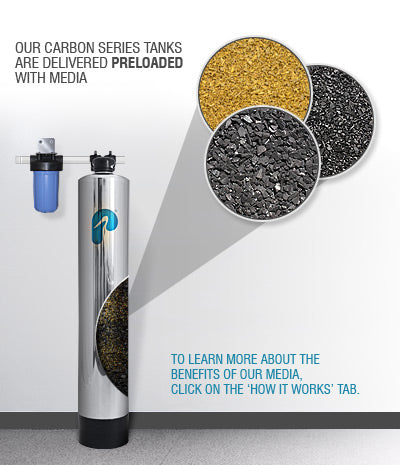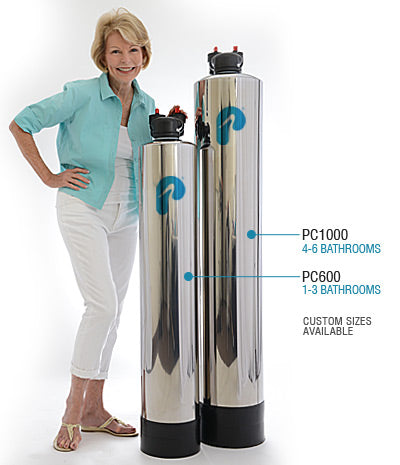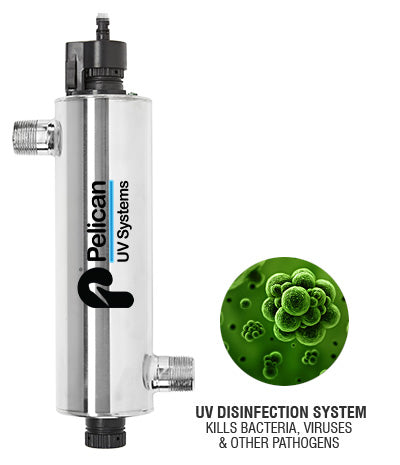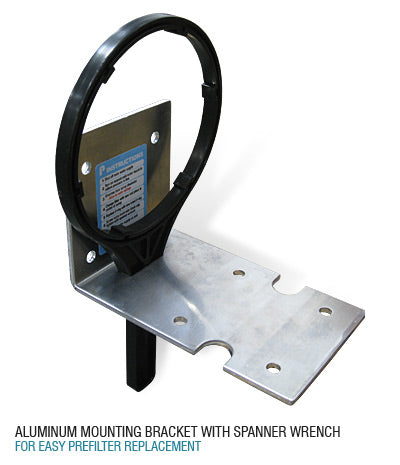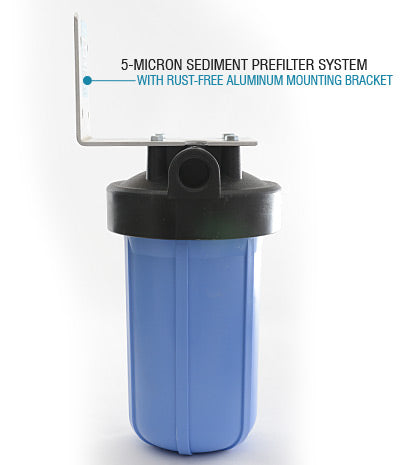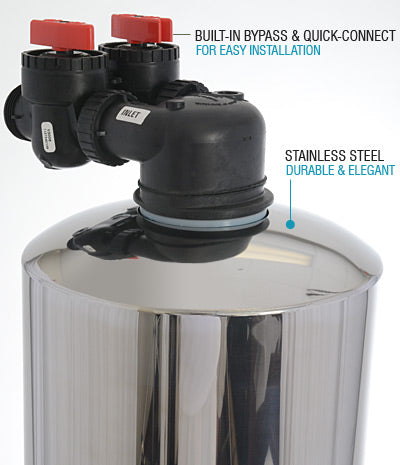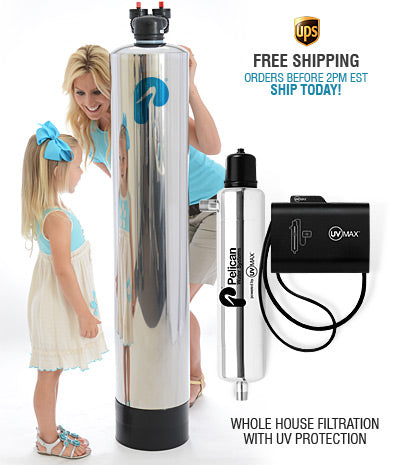 Excellent decision
We're very happy so far with our decision to implement this for our well water. I can tell a big difference in the smell and taste. Very happy.
It works great!
This system is really great. Installing was a puzzle on its own, had to install some wood boards on the wall like I've seen other people do, but honestly that was such a good idea. I was able to mount all of the pieces to the board and everything is highly visible and easy to access for when I need to inspect for leaks and when I'll have to change the filters in the future. Very worth the extra leg work.
PC1000 & UV
The installation was harder than we thought, should have bought the install package, but even then you still need to connect it to your house lines. We hired some help and it works, but it cost a little more than we were hoping. At the end of the day, the system performs really well and we're happy with it.
Finally safe drinking water!
Our city has been giving us trouble for years with bad maintenance resulting in sediment and boil water alerts. Well, now we're covered and we can finally drink water safely from the tap again no matter what! We are relieved to have this system at home.
Install is tricky but doable
Needed some help on the install. I'm handy/DIY but it was a little much for me. Eventually we got it figured out and the system seems to be pretty good!