Brondell Compatibility & Installation
Fit and Compatibility Requirements
Brondell Swash bidets are compatible with most Standard toilets on the market, however, there are parameters that need to be met for a successful and compatible installation!
How to measure for a Swash toilet seat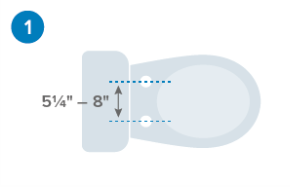 Measure the distance between the bolt holes. The space must be between 5-1/4 inches and 8 inches.
Please note: To properly fit SE400, SE600, IS707, CL510, and CL950 models, this distance must be 5-1/2 inches.

Measure the distance from the center of the bolt holes to the toilet tank to ensure proper clearance. There must be at least 1½ inches of clearance.

Measure the distance from the bolt holes to the front of the toilet bowl to determine if you have a round or elongated fixture.
If your measurement is 18" – 19½" order an Elongated Swash
If your measurement is 16" – 17¾" order a Round Swash
Please note: Some toilets may require an Alternative T-Valve and/or Top Mount Hardware.
Is the distance from the center of the bolt holes to the toilet tank less than 2 inches?
The Swash may extend slightly over the front edge of your toilet bowl.

Measure the distance from the front of the toilet tank to the front of the toilet bowl.
If this measurement is less than 20½ inches, consider purchasing a Round size to reduce the amount the seat extends over the front edge, even if your fixture is elongated. 
The overall length of the Round Swash is 19.4 inches. A distance less than 19.4 inches from the tank to the front of the toilet bowl will also cause overhang.
Fitting a Swash bidet toilet seat to a new toilet
If you've decided you'd like to install the Brondell Swash on a new toilet, we recommend you find a toilet that matches your size, budget, design, performance, and height requirements. Once you find your toilet, use the toilet manufacturer's spec sheet and the diagram below to calculate whether it is compatible. If the value of "D" is greater than 1-1/2 inches, the toilet is compatible with your Swash.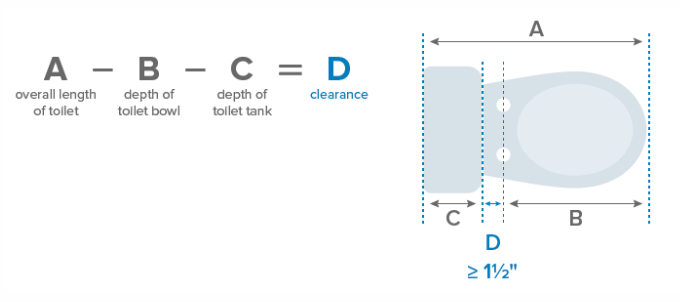 If you're looking for inspiration for your new toilet, below is our "Best Of" list.
Please note, Brondell has not used any of these toilets and is not responsible for the performance of these toilets. Brondell has no affiliation with the manufacturers listed below:
Best High End: Toto Drake II Two-Piece toilet

Best High End Concealed Trap Away Toilet (Skirted):  Toto Legato One-Piece high-Efficiency. You will need 

Alternative T-Valve

 and 

Top Mount Hardware

 for this installation.

Dual Flush High End: Toto Connelly Close Coupled toilet, 1.28GPF & 0.9GPF

Dual Flush and Budget-Friendly: Glacier bay 1-piece High Efficiency Dual Flush Elongated Toilet in White

Wall-Hung: Toto Maris (Because this toilet uses an In-Wall Tank System, your plumber will need to provide an accessible ½" water supply connection for the bidet)
Swash S100 EcoSeat Toilet Fit Information

The Swash Ecoseat S100 is designed to fit Elongated toilets only, however this model will fit select Round fixtures. Please reference the diagram above for size verification. The Ecoseat S100/101/102 will not fit French Curve fixtures.
Installation Requirements
Standard installation
Standard installation is quick and easy. It involves a few simple steps:
Shut off the water valve at your toilet

Remove your existing toilet seat

Install the Swash mounting bracket

Attach the Swash to the bracket and connections. The included T-valve is installed directly below the toilet tank to direct filtered household water to the Swash. 
Required tools
A Phillips head or standard screwdriver may be needed to remove the existing toilet seat and a standard wrench may be needed for loosening tight water supply connections. However, we recommend hand tightening the bidet connections to avoid damaging the product.
Teflon tape can be helpful in creating a watertight seal between plumbing connections to make sure your installation is leak free! Teflon tape can be found online or at your local hardware store.
Plumbing requirements
All of Brondell's Swash Bidets will require access to a Standard ⅞" fill valve. A flexible braided supply line from your shut off valve to the toilet will also be necessary as some homes have alternative plumbing.
Use only the provided installation hardware
Please contact us if you need alternate parts for your installation, we provide approved alternate hardware as needed. Substituting with unapproved or third-party parts will void your warranty, and Brondell will not be held liable for damages.
Alternative installation (for 
skirted toilets with no access to the tank or the toilet seat mounting bolts)

The Brondell Swash comes with all of the plumbing and mounting hardware necessary to install the bidet on a traditional toilet. However, many modern toilets have sleek designs intended to cover and camouflage plumbing connections, which makes a typical installation difficult or impossible. For this, we recommend using Brondell's Swash Alternative Replacement T-valve option, found HERE. The T-valve will connect at the shut-off valve at the wall instead of under the toilet tank. If your fixture also only has top-side access to the mounting bolts that hold the seat to the toilet, you will likely need top-mount hardware, found HERE.
Electrical requirements

Swash electronic bidet toilet seats do require an electrical outlet, operating on a standard 120 volts AC. You will need a three-prong GFCI grounded outlet (e.g., outlet with an internal safety breaker, common in kitchens and bathrooms). If your outlet is more than three and a half feet from the toilet, you will need a grounded extension cord to operate your unit. For those customers interested in installing a new outlet specifically for the Swash, the optimum location when facing your toilet fixture is to the right side of the fixture underneath the toilet tank. For more information, see the "INSTALLATION" tab on each product page.